Octopus energy will be six years old in 2022. Greg Jackson founded this company with the sole purpose of providing cheap and green energy for the consumers. The company says they are gaining 30,000 customers on average every day and supplying energy to two million homes quickly.
In this supplier review, we will cover everything from Octopus energy with its pricing and review, which will help you decide whether this supplier is good for you.
Does Octopus Energy Sell Renewable Energy?
The simple answer is yes. They sell renewable energy. All of their tariffs offer you 100% renewable energy met by sources like a solar, windmill, biomass, landfill gas, and hydro. 
Moreover, to reduce the carbon footprint, Octopus can symmetrize the carbon emission from the gas customers use each month. It also has two wind turbines in East Yorkshire and Caerphilly.
Looking at the stats, 26,900 tons of CO2 have been blocked from entering the atmosphere, thanks to Octopus' low–carbon energy. This has the same climate effect as planting 365 trees for every Octopus energy customer.
Octopus energy: Pros and Cons
Pros
100% green electricity

Supplies 100% renewable energy

Fair and competitive pricing

Refer a friend to get £50

Great customer service
Cons
No green gas (but all carbon offset)

The smartphone app is poorly reviewed
Octopus Energy: Tariff Option
Octopus energy offers different ranges of fixed, prepaid, variable, and specialist tariffs, making the provider more flexible and market leader in this respect. We will show you all the tariffs Octopus energy have to offer to you and display all the prices based on average gas and electricity usage (2900kWh electricity & 12000kWh gas):
There are three main Octopus tariffs to keep in mind-
Octopusfixed- £84 per month on average 
This is the most popular tariff among the others. In this tariff, octopus energy offers a 12 month fixed energy plan, which is the cheapest available compared to other tariffs.
FlexibleOctopus- £80 per month on average
It is a value tariff pack, but the price may fluctuate occasionally based on the cost of wholesale energy. This tariff charge could also differ if Ofgem's price cap is changed. It can be labeled as the variable tracker.
SupergreenOctopus- £85 per month on average
As we know, all Octopus Energy's tariffs offer green electricity; this one comes with carbon-neutral gas, in addition. This means that any gas you use, Octopus energy will find projects to reduce carbon emissions worldwide. 
SupergreenOctopus is the supplier's most popular option, to be precise, as it is the greenest Octopus tariff. The supplier offsets your gas use too.
Moreover, Octopus offers several other specialist tariffs for customers with smart meters, such as OctopusGo. This tariff is specially designed for electric vehicle users, which offer super-cheap electricity for 5p/kWh every night from 12:30-04:30 am.
Another good one is the outgoingOctopus tariff. This one is primarily aimed at people with solar and battery storage. You could get paid if you generate your renewable energy through solar panels and battery storage and export them. Again, you have options to choose between a fixed rate or a dynamic wholesale rate.
Octopus Energy And Smart Meter
You don't need to buy a smart meter for the three main Octopus tariffs. 

Octopus will install a smart meter if you wish.
You will need a smart meter for special tariffs like OctopusGo and agileOctopus. Octopus can link to any secure SMETS1 OR SMETS2 smart meter.
Octopus Energy Referral
Octopus energy offers a referral scheme. If you refer a friend and he signs up, both of you will get £50 credited to your account after your first bill payment. But one thing to keep in mind, if you want to get qualified for the referral scheme, you will need to switch directly with Octopus instead of going through a comparison service.
Octopus Energy: Pricing
Octopus energy is one of the UK's cheapest and most reliable energy suppliers. Their fixed tariffs are very cost-efficient, and the supplier is very competitive in the green energy space. 
Like most energy suppliers in the UK, Octopus energy pricing is subject to Ofgem's energy price cap. 
In August 2020, Octopus's 12 months fixed tariff offered 1 kWh of electricity for 14.6p compared to 15.2p at Shell energy, 16.9p at British Gas, and 15.9p at EON for a central London postcode. Bulb Energy was slightly cheaper in central London- 14.1p per kWh.
Keep in mind that energy prices differ across the UK, depending on where you live. There are 14 energy regions in the UK; the prices vary in each region. So, the amount you will pay for your energy usage depends on how much energy you use and where you live.
Warm Home Discount Scheme
Octopus Energy has started offering warm home discounts to eligible households from winter 2019. 
Applications for this year are closed currently. When the application opens again, once you get the Guarantee Credit element of Pension Credit (known as "Core Group," or you are on a low income), you will be eligible for the Warm home discount. But you must fulfill the criteria set by Octopus for getting the scheme.
What Payment Methods Does Octopus Energy Offer?
You can complete your payment with Octopus Energy through monthly direct debit. This payment method offers the least hassle. But if you are convenient with other payment methods, you can use that also. Other payment methods Octopus energy accept-
Bank transfer

Cheque

Credit card/debit card

Cash via a PayPoint location
Before changing the payment method, contract with the authority of Octopus Energy, and they will guide you to make the necessary changes.
Octopus Energy Customer Service
Octopus energy provides very amazing customer service for the end-users. If you have any questions regarding your account or the process of switching to Octopus, You can contact them via Email, phone, or social media. The company said Email is the quickest way to get to the customer service team.
If your inquiry is urgent, you can call them during office hours. When we made a call, a friendly assistant answered our phone in under one minute. 
Should You Switch To Octopus Energy?
Yes, it would be best if you switched to Octopus Energy. The company holds many industry awards, and all the good reviews from customers speak from themselves.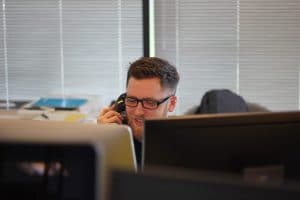 The affordable price, excellent customer service, eco-friendly initiatives, and forward-thinking attitudes make them stand apart from other energy supplier companies. As a result, we think Octopus is the best supplier currently in the UK.
Switching To Octopus Energy: How Simple Is It? 
The process of switching to Octopus Energy is straightforward. The company was one of the first to sign up for Ofgem's Energy switch guarantee, which assures a fast and safe switch that will be completed in under 21 days.
You can directly switch to Octopus Energy using the website

You can use the price comparison service to switch

Energy Switch Guarantee assures a fast and safe switch of energy
How Do I Contact Octopus Energy?
Octopus Energy's contact number: 0808 164 1088
Email address: hello@octopus.energy
Contacting octopus energy is free from all UK landlines and mobiles. The lines are open between 9 am – 5 pm (Monday – Thursday) and 9 am- 4 pm on Friday.
Can You Join Octopus Energy With A Prepayment Meter?
Octopus energy offers customers prepayment meters. You need to email them your details to get a quote and sign up.
Prepayment customers will get an emergency credit of £5 when less than £2 gas credit and £1 electricity credit remains on the meter. You need to repay it in full next time you recharge.
Another perk of using Octopus energy is running out of credit between 4 pm – 10 am on off days or holidays. Your electricity won't cut down. Instead, the cost of extra electricity you use will be added to your meter as debt, and you need to pay it next time you recharge. This is called 'friendly credit.' However, this amenity doesn't apply to gas.
Customer Reviews On Octopus Energy
Octopus energy has been a recommended supplier for three years in a row. In 2021, it was named the energy supplier of the year by Uswitch. It was also voted the best company to work for at the 2019 UK Employee experience award.
Apart from this, it gained a whopping five stars on Trustpilot, with 32,000 reviewers rating is excellent. Many customers commented that it was effortless to control their accounts online and praised the switching process. We went through thousands of user reviews, and most of them seemed very happy and satisfied with the service.
Conclusion
Octopus energy is one of the best energy supplying companies in the UK. It narrowly missed out on the first spot in the customer survey by two percentage points. However, the company claims to be "doing energy better,"- and looking at their track, it seems they are living up to their expectation.
We hope this article has helped you get enough details about Octopus Energy and decide on switching to it.