As you prepare to enjoy the holiday season, Mother Earth begs for your assistance. As a result of unmanaged climate change, parts of the planet are raging like infernos. Plastic has been discovered in the guts of several marine creatures by scientists. 
At the same time, the prevalence of different illnesses, such as Type 2 diabetes, continues to rise. Fast eating and wasteful Western lifestyles are contributing to these issues.
You have alternatives if you want to get into the spirit while still protecting the health of your friends and the world. You can host a healthy and environmentally sustainable Christmas celebration that your guests will remember far into 2022. This is how it is done.
1. Planning the Menu
How can you put together a healthy holiday menu? It all starts with adhering to sound nutritional standards. You want to provide a dinner that is good for your health but also tastes well. You may prepare more nutritious versions of your favorite comfort foods.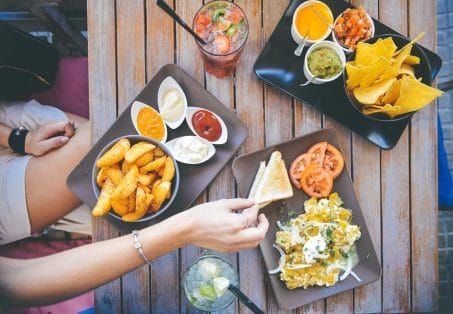 For example, hollandaise sauce may be used to spice up asparagus. However, you may make a vegan variation of the popular meal using tofu and turmeric.
Turmeric has natural anti-inflammatory qualities and other therapeutic benefits, in addition to imparting a delicious Indian taste to dishes. Tofu provides protein without the additional calories found in full-fat dairy products.
Remember that many of your guests will have food limitations, so arrange your meal accordingly. People with celiac disease, for example, can feel extremely sick if they consume gluten, a protein found in wheat, barley, and rye.
On the other hand, you don't want your visitors to leave hungry, so make allergy-friendly foods the main course, not an afterthought.
Use caution when it comes to drinking as well. Serve non-alcoholic versions of celebratory refreshments so that people who cannot consume alcohol for any reason do not feel excluded.
The combined effect of peer pressure and holiday stress might make festivities less enjoyable for individuals who abstain for personal reasons. 
No one will notice if everyone is holding a lovely beverage! So what is the overarching message? Know your guests well and attempt to accommodate them as much as possible to share Christmas happiness.
2.Healthier and Crowd-Friendly Versions of Holiday Favorites 
How can you make your favorite holiday foods kinder and healthier? It's simple! For ideas, try these recipes.
Appetizers
Roasted butternut squash falafel bites:

It doesn't get much more seasonal than butternut squash, and your guests will appreciate the flavor of this delicious side dish. To make it as spicy as you prefer, adjust the cayenne pepper to taste. Tahini adds nutrition, either harming animals or contributing to the destruction of the rainforest.
Rolled toasted mushroom appetizers:

Mushrooms play a prominent part in many seasonal comfort food meals, and this recipe meets the bill — it fits in the palm of your hand. Your visitors will be able to nibble on these while mingling with the newcomers.
Side Dishes 
Butternut pecan sweet potato casserole:

Whether you're celebrating Thanksgiving or making it through another year, sweet potatoes are a staple of many cherished holiday rituals – and this dish doesn't disappoint. Avocado or coconut oil, depending on your preference, can wash your arteries in heart-healthy lipids. This side dish offers a nice sweetness while containing no added sugar.
Parsnips cooked in maple and vinegar:

Parsnips resemble white carrots but have a nuttier flavor rather than being sweet. As a result, they provide the ideal mix of taste to your Christmas meal — and they're in season, so they're loaded with nutrients.
Desserts
Vegan lamingtons:

A lamington is a sort of Australian brownie, but you don't have to travel to Australia to enjoy it. This recipe makes small blonde bars that are decked up with festive whites — coconut flakes! Because the coconut and almond in these treats is a fairly nutritious dessert, but if you don't tell the kids, they won't know.
Pumpkin pie ice cream:

I scream you scream for pumpkin pie ice cream! Who needs dairy when you can make a healthy dessert with this recipe that doesn't require dairy farms or methane emissions? To further satisfy guests with dietary allergies, use a gluten-free graham cracker crust.
The Great Main Dish Debate
Is it necessary to offer a turkey or roast at your Christmas party? Certainly not! You may surprise your visitors with a lentil loaf covered in puff pastry – their hearts will thank you!
If you must offer meat, pick chicken over beef or pig. Yes, all animal agriculture causes pollution, but growing poultry requires less area and produces less runoff. Look for turkeys and hens with the certified humane mark – this certification assures that the bird may flap its wings and display other natural behaviors throughout its life.
Other Ways to Make the Celebration More Sustainable
You've made your dinner nutritious. However, a sustainable Christmas party entails more than just offering vegan and organic treats. Consider the following suggestions as you arrange your feast.
Make a strategy for distributing leftovers:

You don't want the plastic wrap that you use to package leftovers to wind up in the water. Instead, use recycled Mason jars or silicon containers to protect visitors from BPA while also protecting the environment.
To save water, set up a soaking station:

When you rinse each plate before putting it in the dishwasher, you waste a lot of water. Make a soaking station out of a huge garbage can or barrel instead. Sticky food pieces will soak away with minimal effort, and you may even use the remaining water to rinse your outdoor plants if you like.
Give out eco-friendly party favors:

If you're going to give out party goodies, why not make them environmentally friendly? For example, you might give each visitor a metal straw and cutlery set wrapped in a lovely ribbon. To decrease plastic waste, they might keep them in their handbag or briefcase.
Turn down the heat:

All those bodies will keep your pad toasty warm. Additionally, if you run the oven, it will heat the kitchen. Take advantage of this free thermal energy to turn your thermostat down a few notches.
Use linen napkins instead of paper napkins:

With beautiful cloth napkins decorating your table, you will seem enviably bougie. But, by preserving trees, you will also make the Lorax happy.
Make Your Holiday Celebrations Healthy and Eco-Friendly 
Who said the holidays had to be about wasteful materialism and bad habits? However, by following a few basic guidelines, you can make your celebrations both eco-friendly and healthful. Furthermore, because the holidays are all about spending time with individuals you care about, your cherished visitors will undoubtedly appreciate your inventive party!
To Wrap up
Now that you know all the guidelines on throwing an eco-friendly party, you can be more productively next time. An eco-friendly party is not something too simple to bore your guests, don't get it wrong. There are just a few variations in a sustainable party to avoid environmental damage. Stick to the guidelines above if you want to throw an enjoyable eco-friendly holiday party!