Holidays are a time to get together with family and enjoy each other's company. But what if your holiday celebrations are harmful to the environment? Thankfully, there are plenty of ways to celebrate holidays ecologically and still have a good time.
Amazing Eco-friendly Holiday Tips To Make Your Family Time More Sustainable
Here are some tips to make your family time on holidays more sustainable:
Start by Purchasing Eco-friendly Gifts
There are plenty of ways to make your holiday celebrations more eco-friendly, and one of the easiest is to start by buying eco-friendly gifts for your loved ones. And when it comes to eco-friendly holiday gifts, the first place to start is by purchasing them yourself.
This will help you avoid buying items that are environmentally damaging or harmful to the environment in some way.
Here are some tips to help you get started:
Shop for recycled or sustainable products whenever possible.
Opt for environmentally friendly decorations like handcrafted or organic candles or wreaths made from natural materials.
Try to avoid using unnecessary packaging when sending gifts, and think about alternatives like sending sweets in a jar instead of a box.
Only Purchase Gifts That You Know Will Be Put to Good Use
When it comes to shopping for gifts, it's important to think about what you're actually going to do with them. That means only buying gifts that you know will be put to good use.
For example, if you're buying a gift for someone who loves gardening, don't buy them a garden hose. Instead, consider buying them a compost tumbler or soil maker so they can start cultivating their own organic garden.
The same goes for any other type of gift you might be thinking of purchasing – make sure you research what the recipient can actually use it for before making your purchase.
Shop From Local Store
When you buy items from a local store, you're not only supporting that store's business, but you're also supporting the small businesses that supply them. In addition, by shopping locally, you're also reducing the number of transportation emissions that are associated with transporting those items to your home.
And last but not least, buying local helps reduce the amount of waste that's generated when these products are disposed of.
So whether you're looking for a festive gift or just want to make sure your Christmas shopping is eco-friendly, take a cue from the locals and go shopping at a local store!
Use Wrapping Paper Alternatives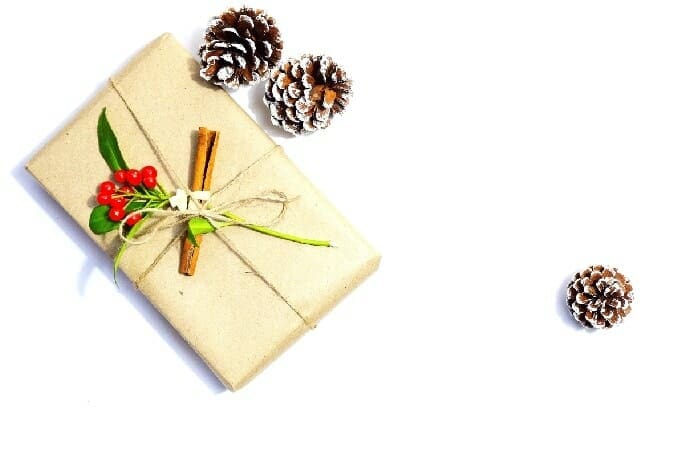 There are numerous eco-friendly and sustainable wrapping paper alternatives that you can use this holiday season.
Some of the most popular choices include recycled paper, organic cotton paper, hemp paper, and bamboo paper. All of these papers are environmentally friendly and non-toxic, making them a safe choice for your family's gifts. They're also strong and durable, making them a good choice for DIY projects or card Making.
You can also try using recycled packing materials like straws, fabric sheets, and old clothes to wrap your presents. These materials reduce the amount of plastic waste that ends up in landfills and are also fun to use!
Stick to the One Gift Rule
When it comes to eco-friendly holiday gifts, it's important to stick to the one-gift rule. This means that you should only give one gift to each person, rather than buying multiple gifts for them.
This is because it's easier for people to get overwhelmed and end up taking more than they need or using the gift in a way that isn't appropriate.
You should give your loved ones just one thing during the holidays – whether it's something small like a gift card or something bigger like a present. This way, they'll know exactly what you wanted for them and won't feel left out or overwhelmed.
Plus, they'll have the opportunity to use the gift in a way that's best for them without feeling guilty about wasting or abusing it.
Simplify Your Decorations
Did you know that one of the simplest ways to make your holiday decorations more eco-friendly is to simplify them? By choosing greener and less toxic materials, you can save energy and help protect the environment.
Here are some tips for creating eco-friendly decorations:
Use natural materials like wool, paper, and bamboo instead of traditional materials like plastic or styrofoam.
Try out sustainable lighting options like LED lights or solar lamps.
Make your own ornaments using natural ingredients like pine cones or lotus flowers.
Get creative and use environmentally friendly dyeing methods instead of using harsh chemicals.
Choose the Right Kind of Tree
If you're looking to make your holiday season more eco-friendly, then one of the best things you can do is choose a tree that's sustainable. There are a number of different kinds of trees that are both environmentally friendly and beautiful, so it's easy to find the right one for your needs.
Some of the most eco-friendly trees are those made from recycled materials like cardboard or plastic bottles. These trees cost less to buy and require minimal care, making them a great choice if you're looking for a temporary addition to your home that won't take up much space.
Use LED Lights
LEDs are a type of light that uses less energy than other types of lighting, which means they can save you money in the long run. They also produce very little heat, so they don't create any additional environmental stress.
In addition, LED lights last much longer than other types of lighting, so you won't have to replace them as often.
If you're looking for a festive but green way to celebrate this year, try using LED lights in your decorations and décor. They'll add an extra touch of class and elegance to your festivities without imposing any extra burden on the environment.
Take Only One Shopping Trip
When you're shopping for holiday gifts, try to take only one trip to the store. This way, you'll save both time and money.
Not only will you save time by not having to go back and forth between the store and your car, but you'll also save money on everything you buy. You can buy your gifts online or at a discount store, which will reduce your total cost even further.
Sustainable Holiday Celebrations: Going Green for a Joyous Family Time
In today's environmentally-conscious world, celebrating holidays sustainably has become more important than ever. While family gatherings and festivities are a cherished tradition, they can also have a significant impact on the environment. To help you make your family time during holidays more sustainable, here are some eco-friendly tips to consider:
1. Choose Thoughtful Eco-friendly Gifts
Start by purchasing eco-friendly gifts that align with your loved ones' values and interests. Here are some eco-conscious gift ideas:
Recycled or Sustainable Products: Look for gifts made from recycled materials or sustainable resources. This could include clothing, accessories, or home decor items.
Handcrafted and Organic: Opt for handcrafted or organic items like candles, soaps, or personal care products. These items often have a lower environmental footprint.
Wreaths and Decorations: Select environmentally friendly decorations like handcrafted wreaths made from natural materials or festive candles crafted from sustainable sources.
Reduce Packaging: Avoid excessive packaging when sending gifts. Consider alternatives such as sending homemade sweets in reusable jars or containers.
2. Gift with Purpose
Ensure the gifts you choose will be put to good use by the recipients. Consider their hobbies, interests, or needs when selecting presents. For example:
For gardening enthusiasts, gift items like compost tumblers or soil makers to support their organic garden endeavors.
Personalize gifts based on the recipient's preferences, ensuring they will appreciate and use them.
3. Support Local Businesses
Supporting local businesses is an excellent way to reduce your carbon footprint and stimulate the local economy. By shopping locally, you:
Minimize Transportation Emissions: Reduce the environmental impact associated with shipping and transportation.
Reduce Waste: Contribute to a circular economy by supporting businesses that may produce less waste compared to larger corporations.
4. Sustainable Wrapping Solutions
Consider eco-friendly alternatives to traditional wrapping paper to minimize waste:
Recycled Paper: Choose recycled paper for wrapping gifts.
Organic Cotton, Hemp, or Bamboo Paper: These materials are eco-friendly and biodegradable.
Recycled Packing Materials: Use items like fabric sheets, old clothes, or even straws to wrap gifts creatively.
5. Embrace the One-Gift Rule
To reduce waste and promote thoughtful gifting, adhere to the one-gift rule. This practice ensures that each person receives a meaningful and appreciated gift, minimizing excess and waste.
6. Simplify Your Decorations
Make your holiday decorations more eco-friendly by simplifying and using sustainable materials:
Natural Materials: Utilize natural materials like wool, paper, and bamboo for decor instead of plastic or styrofoam.
Sustainable Lighting: Opt for LED lights or solar lamps, which consume less energy and last longer.
DIY Ornaments: Create your own ornaments using natural elements like pinecones, leaves, or lotus flowers.
7. Choose a Sustainable Tree
If you prefer a traditional holiday tree, consider sustainable options:
Recycled Materials: Choose trees made from recycled materials like cardboard or plastic bottles for a temporary and eco-friendly decoration.
8. Utilize LED Lights
LED lights are energy-efficient and eco-friendly:
Energy Savings: LED lights consume less energy, reducing your electricity bill and environmental impact.
Durability: LED lights have a longer lifespan, reducing the need for replacements.
9. Plan Efficient Shopping Trips
Efficiency in shopping can save both time and resources:
One Shopping Trip: Aim to complete your holiday shopping in a single trip to minimize fuel consumption and save time.
Online Shopping: Consider online shopping or discount stores to reduce travel-related emissions and costs.
By following these eco-friendly holiday tips, you can enjoy quality family time while reducing your environmental impact, contributing to a more sustainable and joyous celebration.