Outdoor furniture is a great way to decorate your balcony or patio. It helps to add beauty to your home and provides a soothing escape outside in the evening. However, buying furniture is confusing as there are so many options to choose from in the market.
So, we thought, why not review the five best eco-friendly park benches for 2022 summer and provide an in-depth overview of each product. When you buy an outdoor bench or furniture, you know exactly what you are looking for.
Why Should You Look for 100% Recycled Park Benches? 
Many companies are now turning towards environmentally friendly products that help protect the world we know. That is why companies are spending more money recycling used plastics and manufacturing benches with that material. Here are some benefits of using a 100% recycled park bench or furniture –
1.  More Versatile and Eco Friendly
Did you know people around the globe use 500 billion plastic bags every year? These bags do not get absorbed by the soil or do not evaporate. They stay for many years and pollute the environment.
Now, coming to eco-friendly benches, this furniture is made from used plastic materials and one bench is equal to 2000 plastic bottles. That means we have been recycling and eliminating the pollutants of our earth for so many years.
2.  Low Maintenance Costs
When the manufacturers make a bench or furniture from recycled plastics, they are not just providing a short solution to the environment and providing us with something that will last a long time with little to no maintenance.
Eco-friendly benches are made from recycled plastics, almost 2000 to be exact and these are very easy to clean and the colour does not fade away. Moreover, it does not hold any water, making it longer-lasting furniture with low maintenance.
3. 
Extreme Weather Resistant
These recycled benches are weather-resistant as they are made from waste plastic, so they are stronger, durable, and do not catch rust when the weather changes. It is one step closer to solving environmental issues and looks and lasts a very long time, even in harsh weather.
Buying Tips: 
Make sure the bench is durable to avoid frequent replacements.

Check how much weight it can uphold.

The material should be eco-friendly. The coloring should not affect the environment.

If you would need frequent movement, choose a bench with lightweight.

Check how many people can sit on this bench.

The coloring should be good enough so that it does not fade away remaining outdoors.

Don't fall for the design, check the quality first.

Finally, check if they are pre-assembled or if you need to assemble them. Pre-assembled benches are appropriate if you wish to keep them at a fixed place. However, if you need frequent movements then opt for non-assembled benches. 
Best Outdoor Eco-friendly Park Benches That Leaves No Mark on the Environment
1.
Plow & Hearth German-Made, Weatherproof Resin 3-seat Garden Bench
#1 Strength: Eco-friendly recycled plastic material used for construction.
#1 Weakness: Some buyers complain about the packaging.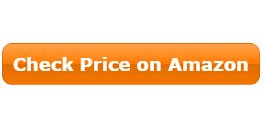 Product Specs
Dimensions:

26.5″D x 59″W x 31.5″H

Material:

Plastic

Color:

Green

Size:

Large
Product Features 
Minimal maintenance required for this bench.

Commercial quality bench with three back supports.

Extremely versatile making it suitable for park, yard, garden, pool, pond, dock, deck or anywhere outdoors.

All hardware for installation provided with the product.

Long lasting and weather resistant.

Can hold 500 lbs. 
Detailed Review
The Plow & Hearth German-made waterproof bench is heavy-duty comfortable furniture that weighs around 500 pounds. It is a commercial-grade product that provides excellent stability and three back supports for more convenient and comfortable long sitting sessions.
It comes in green which makes it a perfect addition to your backyard garden and when it comes to durability, the product takes the cake. It is made from durable PVC that lasts a long time and is resistant to heat, water, cracking, peeling, and fading.
Preparing Delivery
According to the amazon reviews, some people complain about the product's packaging. The manufacturers should beforehand check the packaging themselves before shipping. 
Moreover, as you will have to construct the product after having it in your hands, you should check beforehand if all the parts are there.
Pros and cons
Pros: 
Durable

PVC construction makes it last a long time

Comfortable backrest

Capacity of holding 500 pounds

 


Cons –
Quality control needs to improve
How it compares
The product by far is impressive as its high-end construction and the weight capacity is very impressive. However, the product's shipping needs to improve as reported there are sometimes parts missing or the packages getting damaged.
Alternative products
Garden Bench, Outdoor Benches with Anti-Rust Aluminum Steel Metal Frame:

The Garden Bench is made from iron pipes which is more durable than PVC constructed benches and it can hold up to 660 pounds which are 160 pounds more than the  Plow & Hearth German-Made, Weatherproof Resin 3-seat Garden Bench. 
cucunu 4 Foot Wooden Garden Bench 2 Seater:

The Cucunu is more like a European style bench than your  Plow & Hearth German-Made, Weatherproof Resin 3-seat Garden Bench traditional benches. It is a great option if you are into that type of interior. The main difference is Cucunu's looks and design.
2. Best Choice Garden Bench for Outdoor

#1 Strength: Very sturdy
#1 Weakness: Prone to catching rust

Product Specs:
Dimensions:

24″D x 50″W x 33″H

Material:

Alloy Steel

Frame Material:

Alloy Steel

Color:

Black

Size: Large

Product Features 
Lightweight and durable construction.

Three-person seating.

Comes with backrest and armrest features.

Suitable for any outdoor purposes like: park, garden, backyard, poolside, porch, patio, deck etc.

Can hold 400 lbs. 
Detailed Review
You are getting Versatility and durability from the Best Choice Garden Bench. It is an all-steel design that provides stability when sitting and holds around 400 pounds. The backrest is very comfortable and has a floral accented bracket, making it a great addition to your backyard.
It is all steel made, so the product is built to last a long time. However, if it is made from steel, how is it rust proof? The bench has a weather-resistant finish which protects the material in different weather conditions and even in the rain.
Preparing for Delivery
Amazon is the best option to get this furniture as there has not been any product damaged or part missing after shipping. That proves how well organized the manufacturers are handling the packaging and Amazon.
Pros and Cons
Pros: 
Lightweight

Weather-resistant finish

Steel construction

Comfortable backrest and holds up to three persons
Cons: 
The fitting needs to have a better finish as it is hard to fit the parts together
How It Compares
Compared to other products that we reviewed, the Best Choice Garden Bench brings durability to the table. With the steel construction and rust proof coating, you know you have something that will last a long time.
Alternative Products
Garden Bench Yard Outdoor Patio:

The Garden Bench Yard Outdoor Patio comes with a high backrest which sets it apart from the main listed product on our list. Another thing is that the Garden Bench comes with a powdered coated finish. 
Patio Metal Park Bench Outdoor:

The Patio Metal Park bench comes with a chrome finish, making it more resistant to heat and rain.
3. POLYWOOD GNB60WH Vineyard
#1 Strength: Easy to assemble
#1 Weakness: Some buyers complain about the quality of the bench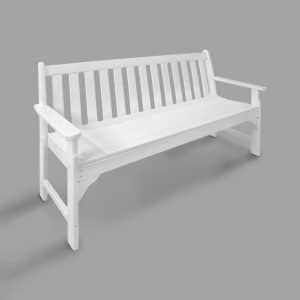 Product Specs
Dimensions:

60.5″D x 24″W x 35.25″H

Material:

Plastic

Frame Material:

Stainless Steel

Color:

White

Size:

60Inch
Product Features 
Three-seater bench.

Made with fade-resistant POLYWOOD recycled lumber.

Can resist adverse weather.

Resistant to insects, fungi, stains, salt spray.

Some assembly required.

Made in the USA. 
Detailed Review
Recycled furniture is the best option nowadays and here is a fantastic choice for you, the POLYWOOD GNB60WH. It is a 60 inches fade-resistant bench made from recycled HDPE lumber. The product looks like natural wood and feels the same when you sit.
It is also stain proof and weather-resistant; moreover, the furniture resists fungi and insects and can withstand harsh weather. Another amazing thing is that all the hardware is stainless steel construction which provides durability and stability to the bench.
Preparing for Delivery
The manufacturers pay close attention to the packaging as there are no complaints submitted on Amazon regarding parts missing or the packaging damaging on arrival.
Pros and Cons
Pros:
Made from recycled lumber

20 year warranty

Stainless steel hardware

Low maintenance
Cons:
How it Compares
The major advantage of the product comes with colour stay technology. The UV inhibitors and stabilizers protect the bench and the light pigments run through the material.
Alternative Products
POLYWOOD Vineyard 4-Piece Bench Seating Set:

The only thing extra that you are getting from Vinyard 4 is the 20 years warranty that the manufacturers are providing. 
Christopher Knight Home Loja Outdoor:

The looks set the Christopher Knight Home Loja outdoor apart from the main product on our list. Another thing is the acacia frame which is more durable than plastic frames. 
4. Giantex Patio Heavy-Duty Metal Park Bench
#1 Strength: Sturdy enough
#1 Weakness: Might catch rust with time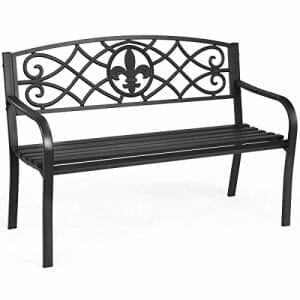 Product Specs
Dimensions:

50.5″D x 24″W x 35″H

Material:

Alloy Steel

Color:

Cast Iron, Alloy Steel

Furniture Finish:

Powder Coated, Black
Product Features 
Comes with heavy-duty steel construction.

The gap between each slat prevents water accumulation on rainy days.

Can accommodate 2-3 adults.

Can hold 500 lbs weight.

Provides a backrest facility with a certain inclination angle.

This bench comes pre-assembled.

They are easy to clean only with a soft cloth. 
Detailed Review
Steel constructed benches are very durable and stable and here is one for you. The Giantex patio heavy duty park bench is alloy steel powder-coated furniture built to last in your backyard.
The seats are spacious and comfortable; moreover, due to its slightly curved legs, the bench can hold up to 500 pounds of weight. It also comes with an inclined backrest which provides maximum comfort and the ergonomic design makes it a perfect addition to your patio.
Preparing for Delivery
The packaging needs to be handled more carefully. Because according to some people the package came damaged or there were chips on the body of the furniture. Checking before delivery will help to reduce such incidents.
Pros and Cons
Pros: 
Spacious

Comfortable

Sun proof and weather resistant

Easy to assemble
Cons –
Not all parts are made from cast iron
How it Compares
The entire construction of the furniture is alloy steel, which is very durable and comes with rust and sun resistance. However, one disadvantage is that all the assembled parts are not cast iron.
Alternative Products
PHI VILLA 50Inch Cast Iron Steel Frame:

PHI VILLA 50 inch is slightly smaller than our main product; however, it can hold 50 pounds more.
Outsunny Outdoor Bench:

The design makes the Outsunny Outdoor bench different from the main product. It is not a con, but it is the perfect option if you like antique-style benches. 
5.      Sophia & William Outdoor Patio Metal Park Bench
#1 Strength: Easy to assemble
#1 Weakness: Some parts seem to be missing after the delivery

Product Specs
Dimensions:

23.5″D x 50.4″W x 35″H

Material:

Alloy Steel

Frame material:

Metal, Alloy Steel

Color:

Red
Product Features 
100% steel material used for the construction.

Surface area has a special powder coating suitable for outdoor use.

Spacious enough for 2-3 adult people.

Can hold more than 500 lbs.

Comes in a design of bird and tree pattern in the backrest.

Provides handrest and backrest. 
Detailed Review
Here is another alloy steel bench with a length of 16 inches. Everything from start to bottom is alloy steel and metal, which means you have pretty heavy-duty furniture on your patio.
The surface comes with powder coating, protecting the bench from sun and weather changes. Moreover, the seats are very comfortable to sit on and it has a slight bend at the front, making a perfect thigh resting place. With elegant design, strong construction and a perfectly coated finish, you know it will be an excellent option for your backyard.
Preparing for Delivery
Packaging is handled properly and no one complained about any damage or parts missing in the delivery.
Pros and Cons
Pros: 
Comfortable armrest

Six steel slats on the back provide excellent water drainage

500 pounds capacity
Cons: 
The color is hot pink not red
Alternative Products
Outdoor Bench Park Garden Bench:

Instead of a metal body, the Outdoor Bench Park Garden bench comes with aluminium construction which is not as durable as a metal bench; moreover, it also does not have the high holding capacity as the main product.
PHI VILLA Metal Steel Frame Garden Bench Patio:

The product is made from cast iron which is much more durable than metal and that is what our main product construction is made from. 
Recycled Plastic Benches: Are They Eco-friendly?
Recycling is what the entire world is doing to save the environment and many manufacturers are also using the same method to produce their products. So, is it eco friendly? Of course, you are collecting waste material and turning it into usable products.
If we think about furniture, manufacturers are now using used plastics and making beautiful benches and furniture. These are both long-lasting and also help protect the environment. Almost 42,000 plastic bottles can make around 7.7% of our furniture; moreover, it saves non-renewable resources.
Are plastic benches durable enough to serve outdoors?
Plastic benches or recycled benches are amazing when withstanding climate changes. Take an example of a plastic bottle in the ocean. It does not dissolve or evaporate; instead, it swims in the ocean for years without any damage. 
Now, take that bottle and thousands more and construct a piece of furniture. What do you think will happen?
It will also have those principles of withstanding harsh weathers and climate changes; moreover, it lasts a very long time and not to mention protecting the environment in the process.
Main advantages of recycled plastic benches:
Recycled plastic benches are a great option, especially in today's environment and here are some advantages that we get from recycled plastic benches –
Maintenance is very low almost to none

Can last a lifetime

Can withstand weather impact and climate changes

Cleaning is very easy

Fading of color does not happen
Conclusion
Recycling is the way to go instead of destroying trees to make beautiful and elegant furniture for our home. If we can get the same thing with an even better life span, why not get a recycled bench or table for our home or outdoors.
That is why I reviewed many products and came up with these five best eco-friendly park benches for 2022 that will not only decorate your patio for your next party but also save a lifetime of investment in a bench.