Building a home is not that easy, but we can help. The average cost of building a home in the US in 2020 was $309,719, which is an average of $298,432 in 2021. But, again, these prices may vary depending on the type of custom home you desire. 
I don't know if you're concerned about this, but in most cases, people go far over their initial estimated cost as the process goes on. So if you want to have a less expensive, sustainable home and want your budget fixed, then a prefab modular home would be a perfect fit. 
Although there are many spendy options in the prefab world, we have listed the best affordable prefab homes where every penny is worth it. So, let's start researching your new home- 
Benefits of Prefab Homes 
A prefab or prefabricated home is built offsite in an industry or factory and then shipped in parts to the building site. This ensures minimum environmental pollution is carried out while manufacturing the house. 
Lesser Waste
When constructing a site, you'll need different parts and materials on the construction site. Unfortunately, these are most often stolen, damaged or wasted. 
On the other hand, it is very easy to calculate the material required for constructing a prefab home since the same formula is used for each category. This means that the prefab manufacturing process requires less waste than the traditional building process as there are no risks of materials getting stolen or damaged. 
Durability
Not every house can stand up to the long journey of shipping. That is why prefab homes use extra materials to reinforce the house firmly so that they are ready for delivery without any damage. Therefore, they are entirely more durable than traditionally constructed homes. 
Minimum Construction Time 
When the construction site is made ready for building traditional homes, the prefab home will already be ready. We know that the weather is an important factor when building a house. 
Since the prefab building process is carried out indoors, there are no risks of weather delaying the construction process. According to the National Association of Home Builders, prefab projects are completed within five months and sometimes the smaller projects are done in 60 days!
Lower Average Permit Value 
The National Association of Home Builders states, "average permit value of $76.80 per square foot versus $94.34 for site-built." According to Paul Emrath, vice president of the NAHB, the average permit value is more useful than the price. 
15 Affordable and Sustainable Homes for 2021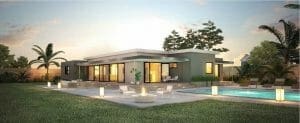 This manufacturing company offers a variety of homes, including mid-century modern design options. Bluhomes provide you 3 bedrooms and 203 baths in 1900 sq feet. There are many other options, including turning one of the bedrooms into a rentable unit. They follow the green guidelines so that there is no impact on the environment. 
LivingHomes C6.2
LivingHome's 2 bedroom, two bathroom C6.2 is a compact model appropriate if you have a narrow lot. However, they provide plenty of space for outdoor mobility at an affordable price. 
The eight-corner layout of LivingHomes provides more visual interest than rectangular models. In addition, it combines a clean modern design with LEED platinum-level certification. You can have an overview of the design of the house here.
Though most prefab homes are ready-made, Method Homes are custom manufacturers of precision engineered that provide you with modern prefab homes. They aim to achieve green building certifications like- LEED, Living Building Challenge, Passive House etc. 
Method's M series is the most affordable selection of prefab homes. These homes provide various interior and exterior finish options and they are suitable for any site you choose. 
If you're short on space, this would be a good option. However, the Titan Park Cabo Home's 1 bed, 1 bath, 399 sq/ft home feels much more spacious on the inside than it feels. 
Moreover, they also include some other external features like- covered front porch, modern mono sloped roof and ample storage place. Therefore, if you're living alone or with one or two, opt for Tiny homes as they are sustainable and affordable. 
Ideabox has endless designs and possibilities you cannot cover watching. Manufacturers at idea box are design experts building prefab homes to create cost-effective, sustainable and precision housing. 
Each home is designed in an eco-friendly way of bamboo flooring and energy-efficient construction to ensure sustainability. IdeaBosx's sage house is a spacious home in 1,014 sq. with two bedrooms. 
Though the sage house isn't big, it's neither small. Two large glass doors open the whole house up and make the house bright during the daytime so that you don't need to use light bulbs. 
Moreover, two large bedrooms are opposite each other with simple openings in the wall. Therefore, for a large living in a smaller space, this would be perfect. 
Though EcoCraft uses prefab techniques, all of their homes use custom design formulas. By using intelligent modular prefabrication, their homes are constructed with unparalleled craftsmanship and precision to detail. 
Moreover, they use resource-efficient methods, which cause only 5% waste. On the other hand, traditional construction methods produce more than 25% material waste. 
These homes are extremely energy efficient using some smart home technologies and high-performance insulation. EcoCraft homes are suitable and adaptable for any spot and they blend with nature after they're installed. 
Bamboo Living Homes are the first and only code-certified permissible bamboo structured around the world. They design beautiful prefab homes and buildings for people all around the world. 
Bamboo Living architect and design team can deliver you the perfect custom house like none other. By using a qualified team, bamboo living packages are made ready in just a few days and ready for shipping. 
If you live in a storm-prone area, these houses will fit you perfectly. Bamboo Living Homes are designed to withstand catastrophic situations without any damage. For instance, their homes survived a hurricane with 173 mph winds!
Worried about the service life of Bamboo Living? All their buildings are made by ensuring a lifetime of safety and providing a 20-year structural warranty. In addition, all their timber grade and supporting material provide clean indoor air quality. 
Greenfab produces extremely efficient and sustainable homes that anyone can afford. Their prefab buildings are constructed using modular construction, CLT panels, and other innovative construction methods. 
Greenfab helps you to make a plan based on your land, budget and climatic conditions. They offer custom homes as well as pre-designed options. They are available 24/7 and you can contact them from anywhere in the world. 
The 1200 Series is a blend of a spacious and elegant house that gives you the courtyard look. Even with a small footprint, you can get 3 bedrooms. 
Clever Homes are quite a bit unique than other home designers. They combine prefab and modular techniques with custom designs so that you get just what you dream of. 
Their primary aim is to create green and sustainable homes with eco-friendly technologies. However, they also design many off-the-grid homes. They use prefabricated and modular building strategies to create the best sustainable home for your purpose. 
Homes by Go Logic provide a more traditional aesthetic dwelling that can be prepared in just 2 weeks! Yes, you saw that right.  Go Logic's portfolio starts from  600-square-foot, single-bedroom cottage to  2,300-square-foot, four-bedroom family home. 
The Go Logic home is a super-insulated air-sealed building shell designed to use 80% less energy than conventional houses, even in the Northeast! So this offers you sustainability and energy efficiency at one.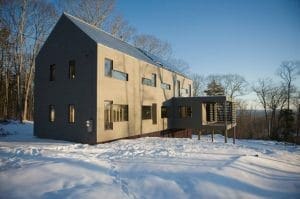 Ecocor houses are super energy efficient and are dedicated to providing eco-friendly houses with minimum waste. They build their designs and work with owner builders to create the healthiest and most energy-efficient dwelling. 
From design to construction of Ecocoer houses, they follow eco-friendly methods to leave minimum waste and construct your ideal house without causing any impact on the environment. They provide you, 11 models to choose from with a variety of exteriors.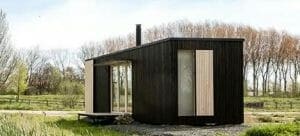 Ark shelter was founded by Belgium architecture students who desire to reinvent how people live their lives. These houses are extremely energy efficient and sustainable in an affordable range. 
What's inside the house: 
A built-in platform bed joining a large picture window to enjoy the view from your bed

A fireplace

Table for two

Full kitchen 

Bathroom
Moreover, the floor to ceiling on one side of the structure saves a lot of your electricity bills as this lets in natural sunlight and preserves the house's beauty. 
Not only this, these prefab homes come fully furnished, from appliances to kitchen utensils. So you get the complete home package at once and can be practically installed anywhere. Yes, this is as simple as it sounds. 
The weeHouse was initiated aiming to create a house with sustainable design principles. Alchemy architects can help you design your home by combining a playful design process. Their construction projects prioritize building strategies that produce less waste and are sustainable.  
Their architects work with sustainable experts to make your house eco-friendly using solar, geothermal, green roofs and other eco-friendly alternatives. 
The size of this weeHouse ranges from 450 to 2,000 square feet and the interior includes steel/wooden siding, low-glass, stainless steel appliances and an in-floor hydronic heating method.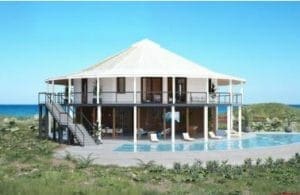 Deltec homes help you achieve your desired living space with sustainable features. Each home is prepared in a factory with 100% renewable energy, so you don't need to worry about the environmental impact.  
The round structure of Deltec homes lets the outdoors in and these houses are perfect for spending your vacations. The classic Deltec home is two bedrooms, two bathrooms and requires 2,075 square feet of space. 
Deltec homes provide you a wide range of space options starting from 328 square feet to 2,434, 4,340 and 5,756 square feet. So you can select you8r ideal Deltec home based on your space opportunities. 
The Pearl is a wonderful choice if you live in an open space or if you like to enjoy nature from your bed. Pearl's design formula utilizes passive solar techniques and aerodynamic shape. Most importantly, they are earthquake resistant and can withstand adverse weather and storms. 
The structure of this house was designed with the sun's daily and yearly course in consideration. This is optimized to stay cooler in the summer and warmer in the winter. 
This provides a highly energy-efficient home and you don't need extra appliances to keep the house cool. Moreover, they have design plans ranging from 300 square feet to 4,900 square feet with customizing options. 
Good Signs and Red Flags 
Now that you have got the list of expert prefab manufacturers and architects, you should also learn to choose the right and suitable option. Here's what to look for when working with an architect or manufacturer- 
Age of the Company 
The age of the company is the first thing for you to notice. This shouldn't be their first project. If possible, look if they have any houses at least ten years old. They need to be in the b business platform (in the future) to honor the warranties. 
Our recommendation based on the age of the company is Ecocor and Go Logic. 
Expert Team
A company without building science experts or architects should be investigated more carefully. Who will be in charge of your project and how experienced they are should be found out. 
Fortunately, all the companies mentioned above have an expert team and architects. They prepare your project without any impact on the environment and give you a sustainable piece of work. 
Imperfections
While you should expect minor changes in the project, major design flaws are a serious red flag. Therefore, work with the company as a consultant so that you can get your home just as you want. 
Company Background 
If possible, get in touch with someone who built with the company recently. Know about the project management of the company and the number of imperfections (if any). 
If the company is disorganized and the project manager cannot coordinate them well enough, that's a red flag. This is a common problem seen with prefabs. 
How to Handle Chemical Sensitivity 
Ensure you have control over the finishes that go well with your environment. You should have control over- 
Floor types

All wood finishes

All sealers

Few glues

Shower System 

Cabinet Company

Countertops 
Elements that are sometimes fixed after complete work are likely- insulation, framing type, flashing tapes, house wraps etc. It is better not to mess with window and door framing materials. Moreover, with most companies you get the chance to choose siding and roofing types. 
How to Handle Mold Sensitivities 
The prefab design is the most fundamental part of the project. So be careful about the design. 
Inspection of the factory is important. If possible, seek information on where they keep their materials. 
Bring your architect on board as a consultant. He will make the necessary calls for you. 
You would need an excellent builder for the project. 
You need the supervision of all the parts built. 
Know which party is taking responsibility for the party if it goes wrong. 
Though the companies mentioned above are extremely cautious about their project and there are almost no errors, it is better to take precautionary measures. 
Conclusion
Now that you have the list of sustainable home builders at your hand, you can choose the right builder and have your desired home. However, if you are not an expert on this issue, bring your architect or HVAC consultant to review the system. Almost every option and exception can be taken care of. So don't worry about your space, environment, weather conditions etc. Prefab and modular homes are a lot better than conventional homes in environmental waste. So help reduce waste and save the environment.